This content has been archived. It may no longer be relevant
We are here with Michelle Valentine, a woman who has been deep within the entertainment industry for years. Read below to hear all about her!
Thank you for interviewing with BGS today, Michelle! For starters, can you tell us a little about your origin story and how you came to be involved in the entertainment industry?
Since I was a little girl, I've been in the entertainment industry, and I started as a child actor on Sesame Street. My mom was already in the industry, and since she was a single mom, she always had me with her, so it was a natural progression for me to get involved. It seemed normal for me to do as I was always in talent shows in school and eventually switched to doing things behind the scenes in college. I developed a love for writing, and my mom says that I used to write plays and sell her tickets to my room, so I've always had that creative side and the entrepreneurial spirit.
You've been writing for a while, even during some pretty exciting moments of your life. Can you tell us more about those?
I was in a girl group! A pretty popular one in the 90s, so I left school for a little while and went to pursue that. I was able to get that experience traveling the world, and I wrote the whole time. I always had a journal, wrote short stories, and when I decided to get out of being in front of the camera, I started learning the business at an entertainment company and law firm where I ran the office and learned how to make contracts. I even worked on the joint venture with Diddy. I always wanted to remain in the entertainment industry but also know the business side. 
You're also a published author. Tell us about your novels. How different is writing books compared to scriptwriting?
I got my first book deal with Zane through Simon and Schuster and have written several novels since then. Most recently, I finished ghostwriting a major book for someone, though I can't say who. As for whether it's different from scriptwriting, it is, but I wouldn't say it's easier or harder. It's just different because, as a novelist, you're extremely descriptive, but when you're doing a screenplay, you don't do that as much because it's the director's job.
Keeping up with your entrepreneurial spirit, you have a booking agency and consulting firm. What can we learn about those?
I do it with my husband, he books many acts, and I am a co-owner with him. The company does a lot of shows within the tri-state area and beyond, and it's exciting, but at the time, it's work. Artists can be interesting personalities, and having been an artist myself, I know how to maneuver within those personalities, but it's not as glamourous as one might think. It's hard work.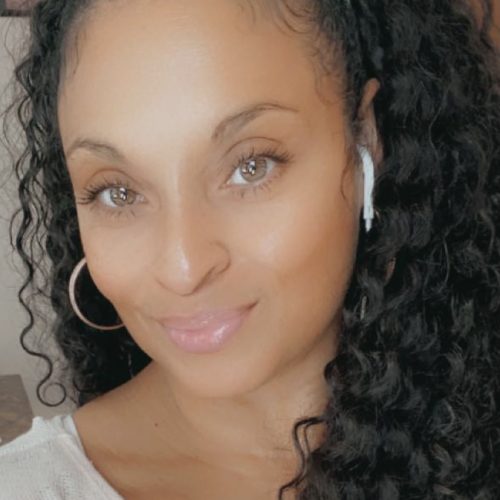 As an artist, you were signed with Sony Records and made the top 10 on Billboard. You're now doing more writing and are also working in corporate. How do you manage so many different career traits?
I'm creative at heart, so I've always been into the arts, whether singing, writing, or acting. Management wasn't really an issue because it came naturally to me. You have to know how to carve out time to do many different things. I carve out time to write even with an exectuvie position at a media conglomerate and a five-year plan. I also educate myself, read other scripts and watch TV because as an author and screenwriter, you're doing those things to see what works, what doesn't, and so on. Writing is more than just being on the page. It's conversations, learning, etc., to help your creativity.
That's so true. We hear two of your novels may be headed to the small screen! Can you give any information at this time?
Right now, it's very early in. One of them was my first novel, we stopped production on that, but we are pivoting. Since it's so early, things are in flux, so you don't really want to say much yet, but there is a lot of interest in two of my projects. I recently hired someone to do a pitch deck because I have two different networks interested in that right now, so I'm keeping my fingers crossed. In the meantime, I keep writing other things and building my portfolio because once you get one show picked up, they always want to know what else you have. No one wants someone who can only do one project, so I would tell other writers to make sure you have an arsenal of work, so when it's your time, you're ready to go because they won't wait for you. I'm at the point now where I think I have three films finished and three pilots.
Do you do anything for fun when you have free time?
I'm super into family. I have two kids, one is a senior in college, and one is in the third grade. So I'm on two opposite sides of the spectrum. I'm a Jack & Jill mom also, so I'm very involved in my chapter. I'm the editor of our bi-monthly newsletter, and I'm on the e-board. I enjoy spending time with my family, my kids, husband, and parents who live nearby. We do many family things, and I make sure that I carve out time with my girlfriends because we need that too.
I love that. Work/life balance is so important. Last question, what's the latest movie you've watched and the latest TV show?
The latest TV show is BMF on Starz, and before that, I binge-watched Wu-Tang. The latest movie was Candyman. I'm really into watching a lot of black content to support and see where my skills lie within the realm.