This content has been archived. It may no longer be relevant
Cas Sigers Beedles is a professional writer, director, and producer who has been killing it at the game for over 15 years! Her most recent project was Unthinkably Good Things, the first movie to launch Hallmark's newest venture, Hallmark Mahogany, based on the popular greeting cards and she also wrote Mahogany's first Christmas movie that will premiere later this year!
Cas, thank you for interviewing with BGS today! As a big fan of Hallmark, I love that they're seeking authentic representation of us and you're leading the charge with the first film! Can you tell us a bit about your origin story and how you fell in love with writing?
I wanted to be a writer but my father – a math professor – didn't understand what I wanted to do with writing if I didn't want to be a teacher, so I originally went to school for clothing and textiles. After I got degrees in those, I worked as a clothing designer at a children's ware company, and I'd style music videos on the side. 
One day they needed a treatment for something they were going to shoot so I wrote one up and I actually got paid for it. I think it was about $1,000 so I wanted to keep doing those because I got that from doing one page. I did that for a while then I quit my job and started writing my first novel which led to me moving to Atlanta, but of course, I ran out of money.
So, while working as a costumer on another set I ended up meeting Terri Vaughn. I gave her my book and she ended up loving it and passing it to her agent who also loved it and wanted to turn it into a TV show. They invited me to LA and that was the start of it all. That book never got optioned but Terri and I ended up starting a company and ended up pitching a series to a company (small at the time) that ended up becoming UPTV and they made my movie, A Cross To Bear. 
Amazing! You've written and/or produced fan favorite TV movies such as Girlfriends Getaway 1 & 2, Between Sisters, and 'Twas The Chaos Before Christmas - a movie I've watched every year since its debut. Where do you find inspiration for such insightful and entertaining stories?
Real life. I know a lot of people and meet a lot on my journey. I also study people. I'll go to an airport really early and people watch. I'll see how they move, walk, talk, different things like that. Also, I've lived an amazing life. Sometimes they're my family stories or my crazy stories and of course, I adjust a bit, but inspiration comes from real life. That's what I think makes the characters authentic.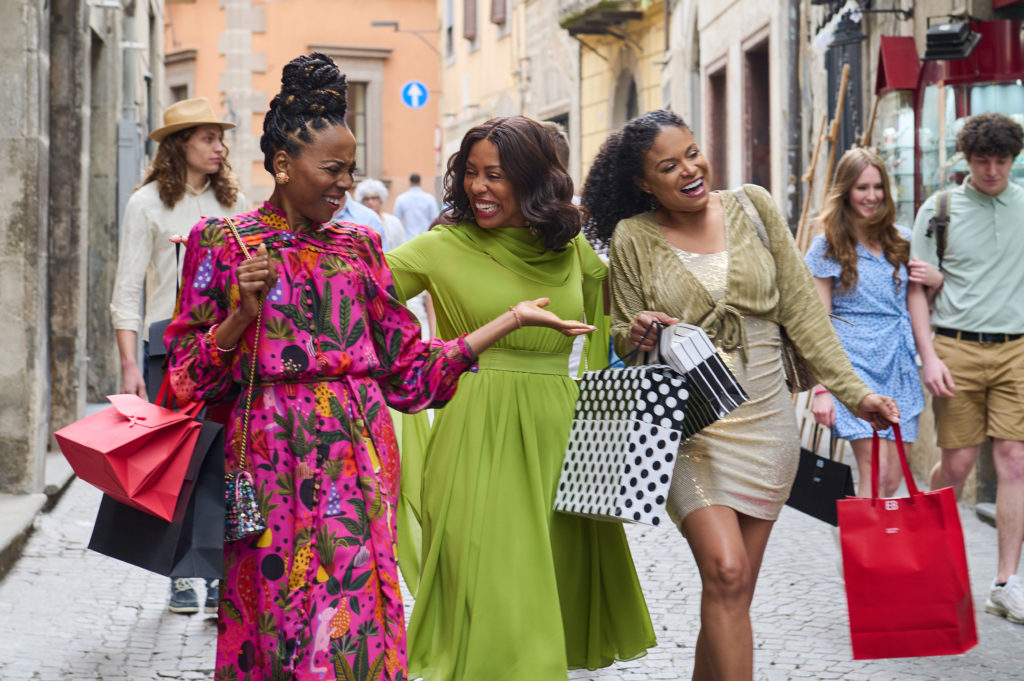 You wrote the first movie for Hallmark Mahogany, Unthinkably Good Things, and soon to come, their first Christmas film! For Unthinkably Good Things, I've seen fans discussing their love of its authenticity, a major goal of Hallmark Mahogany. What was it like to make history with this film?
It was an honor. At first, it was just an honor for Toni Judkins (SVP of Hallmark Mahogany) to even ask me to do it. So, I was already thrilled and then I got scared because I knew it had to be right being that it was the kickoff film, but I worried that it wouldn't be. However, I got over my fear and I think it was from making sure that we had the themes of what mahogany represented like love, sisterhood, and things that make you feel good – reasons I've been buying their greeting cards for years.
I knew I wanted to have a group of friends who were basically sisters and I wanted to sprinkle in naturally Black things like the HBCU, hair, our clothing, and our swag. I felt like all of that was important and at the end of the day, I don't think we realized just how big of a deal it all was until we were in it. Terri and I were in Italy on set and that's the moment it dawned on us how huge this was. It's an honor to be asked to work and to be able to do your craft and get paid for it. We were black girls in Italy making a movie for Mahogany and it's a movie that matters. Honor is the word to describe it.
I loved it and I think you hit the nail on the head with what you all set out to do. You shined a light on NCAT and North Carolina where you're also from. Does your Southern background influence your writing style?
My mom and my brother went to North Carolina A&T and I'm from the South, of course, it does. I always have a Southern character in my stories whether they're from Atlanta, North Florida, or what have you. I think the nuances of a Southern girl in things like cooking, the way we're brought up, and the way our parents taught us life lessons are special and I think every writer, no matter where you're from i.e., your background, your lessons, your family, etc. they influence your thoughts.
They influence how you react and how you respond, And naturally, as a writer, I write all kinds of characters that are from different places, but you can't take yourself out of the conversation so 9 times out of 10, they'll always be a character from the South that is smart and intelligent because a lot of times, black characters from the South are shown as ignorant or not well-traveled or this or that and that's not my story nor is it the story of so many of my friends.
However, it is the story of some of my friends who don't have a passport and have never left North Carolina, but that's okay. Because we're not a monolith and it's important to tell those varied stories from the South because we don't always get to see that.
Going back to the film, Unthinkably Good Things, we saw messages of embracing friendships, fresh starts, and rekindling those special things about us that once was lost. Which lesson stuck with you the most?
I would say leaning on your friends. I have such an amazing tribe and as an artist, everybody outside your artist's role doesn't always get you because our schedules aren't like everybody else's schedules that's why it's important to find a tribe that fits into your world because this is such a hard business.
We get a lot of no's and a lot of disappointments, and it helps if you have friends to lean on. I'm blessed to have a great group of friends, so the lesson of sisterhood resonated with me. And then for me as a woman in their age group, having to get out of doing things the way you've always done things – especially when it's a very safe way – and moving into new areas of life while not being afraid whether it be love or career, for me it was directing. 
I knew I wanted to direct, and everybody had been saying I should for a while, but I felt that I had a good thing going on with writing. I'm a really good writer and I didn't know if I should venture over to directing, but I had to realize it was fear of "what if it doesn't look good and what if people think I suck at it?" So those are the two things that stuck with me, getting out of your comfort zone, and relying on your friends to push you and tell you everything's going to be okay or tell you the truth period even when it's not pretty .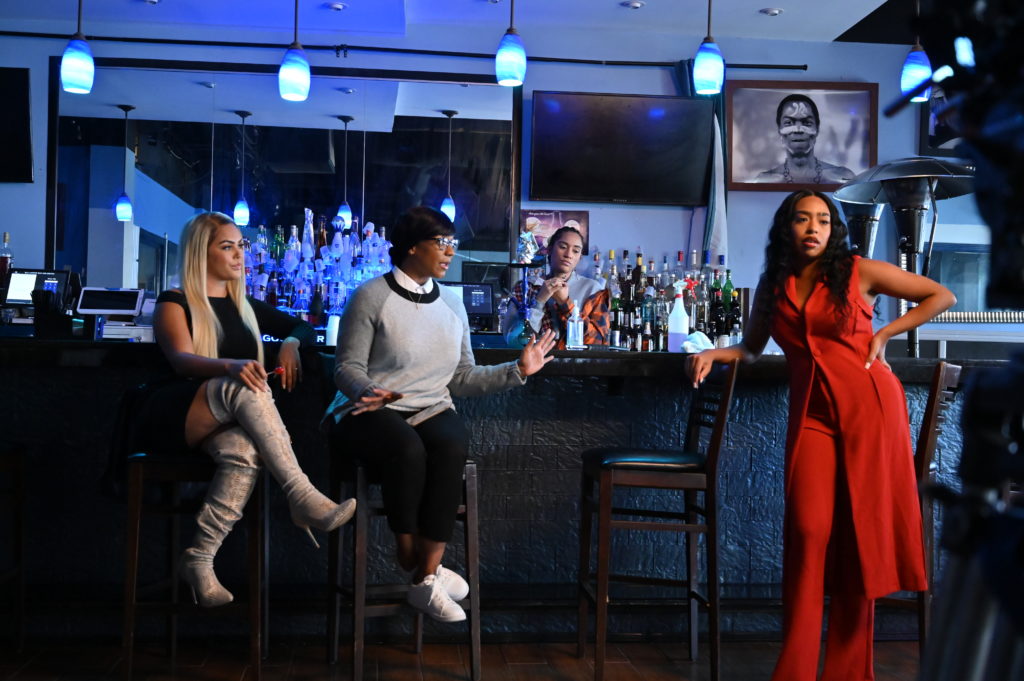 You've written and produced so many projects for over 15 years. Is there any advice you can give to our fellow screenwriters that haven't yet broken into the industry?
Keep writing. A lot of times people stop but keep going. I have projects that I'm just now pitching that I wrote 7 to 9 years ago because I got no's, but I just keep rewriting them and making them better. Certain books help too I always tell my students to get Save The Cat because it gives you structure, and it breaks things down in a simplistic way.
Write a really good screenplay in the genre that you love and then get coverage on it, go to coverage inc. – there are a few other ones but coverage inc. is the one I use – and they'll give you notes then from those notes, you rewrite and resubmit because it teaches you and it helps get your screenplay ready for you to put it out and shop it. Don't just write something and then start putting it out there.
Get your friends together and have a table read even if you can't get actors, your friends can do it, or you can try to get local actors from a high school or college. Table reads are important, and we need to hear what we write because sometimes it sounds different in our heads than it does once it's said out loud in someone else's voice.
If you don't have a manager, sometimes the best thing you can do is enter into screenplay contests or fellowships. Or if you have people around you that can shoot, write a short then film it and enter it into film festivals. You have to get something done to get management and to start pitching to the bigger platforms.
The process to even get to that place requires you to have work done. I had three or four movies on TV before I got a manager but once I got the manager, I was able to pitch to bigger networks and do more but coming in I went straight to a smaller network (now UPtv) so search your local affiliates. If you have a great script, go to local stations, and see if they're interested in doing a movie of the night, a TV movie and of course, a lot goes into that like budgeting, but it all starts with a solid script.
Thank you for such an in-depth response with so many takeaways. As a screenwriter, what's one thing you wish you'd known starting out that you now know?
Don't get discouraged by the nos. I don't get discouraged by them anymore, but early on I did, so I can say if I'd known that earlier I may have done things differently. Another is I write in all genres now. I loved action and sci-fi, but I felt like I had to write Black stories during the early years because that's what was readily available to me, and it wasn't until later that I realized I could do other stuff too.
I also would've had more confidence in my voice and embraced my uniqueness because it's easy to watch other people and want to write like them. For example, when I wrote my first book, I wanted to write like Toni Morrison with it being esteemed and schools studying my work, but my story was a silly comedy and I felt like it wasn't smart enough, so I tried to change it up and realized that's not who I am or how I write.
It took me a few years to realize I'm a funny, silly person. This is what I write, this is my voice, and it's important. So, embrace your voice instead of trying to write like someone famous. 
A great end to a great interview! Thank you again, Cas Sigers Beedles for interviewing with us today!
To stay up to date with Cas and her latest projects, visit her website and be sure to check out Unthinkably Good Things! The next air date is September 11th at 7pm (EST) on the Hallmark Movie Channel, and you can watch it anytime on Philo.