This content has been archived. It may no longer be relevant
We are here with Artasia Olivia, a 24-year-old nurse who is on her way to becoming a showrunner and filmmaker! They say the path to being a showrunner is paved with a lot of hard work and Artasia has definitely been putting in her time! A nurse, an actress, and a screenwriter, Artasia is in it to win it and she's loving every minute! Read her interview below to hear all about her journey so far!
Thank you for interviewing with BGS today, Artasia. For starters, can you tell us a bit about your origin story and how you came to be involved in the Entertainment Industry?
Yes! So, I started as a childhood actress at the age of seven. I've done local television, theater, and thespian festivals in my hometown of Jacksonville, Fl. I've even had an opportunity to audition for Disney Channel and received a callback. However, I was raised by a single mother and at the time she could not just up and travel to Los Angeles, California. Nevertheless, I continued to grow into the entertainment industry within my community throughout elementary and middle school. When I was 14 years old, I enrolled in a prestigious Television and Film Production Career Academy for high school. There, I learned the ropes for "behind the scenes" and "behind the camera" sort of speak. I learned how to professionally write, produce, shoot,
direct, and edit. Our curriculum even included Television and Cinema History and News Broadcasting. From there, I fell in love with this industry.
That's great! On top of everything else, you are also a Registered Nurse. What made you decide to enter a career in healthcare?
Well, I am the eldest child on both my mother and father's side of the family and come from a lower-middle-class background. Everyone is depending on me to be great and end certain generational curses. My family believed it would be in my best interest to get a "real job" with promising wages and wanted me to graduate college with a stable career. Therefore, in 2020, I graduated from Florida State University with a Bachelor of Science in Nursing as a First-Generation College Student. I was awarded a full-ride academic scholarship in addition to a Nursing scholarship as well. Unfortunately, I had to put TV/Film on the back burner, but I knew deep down inside that I was not done with this industry. August of 2020, three months after I graduated college, I relocated to Atlanta, GA to chase my dreams of becoming a Showrunner/Filmmaker. I instantly became a Registered Nurse by day and Dream Chaser by night!
We definitely support chasing those dreams! You say you're an aspiring Showrunner and Filmmaker. What made you choose these particular career goals?
Like I was saying previously, I have been acting since I was seven years old. It wasn't until I graduated from the Television and Film Production Career Academy that I wanted to create content. Fast forward years later, due to COVID-19, my FSU senior class revoked the chance of an in-person commencement and pinning ceremony in May of 2020. Instead of crying over spilled milk, I turned a negative situation into a positive outcome by writing my first project entitled Drastic Reality. Drastic Reality is a One-Hour Television Series based on my personal college and real-life experiences. From then on, I realized I didn't have to wait for other people to give me an acting role. Most importantly, not only could I write my own self a role, but I could give others around me an opportunity to showcase their work and talent! I could give other actors, producers, directors of photography, editors, hairstylists, makeup artists, musicians, etc. a chance to be a part of something bigger than themselves. This is one reason why I started my own production company, AOS Now Entertainment. My motto is "Don't wait… CREATE!"
Nice! We love a Black Girl Multi-hyphenate. What are some other projects you are working on currently?
There are so many other projects I have in the pipeline. I am currently writing and developing 5 original television pilots and 4 original feature films. I plan on having my company, AOS Now, independently produce all of my completed scripts! My passion project, I mentioned before, Drastic Reality being one of them. My first version of the pilot script received Quarterfinalist in Film Freeway's Filmmatic Drama Screenplay Awards and top 33% on Coverfly out of 66,703 scripts! We are in post-production for the first short film I wrote and directed, Drop the Pin. It will be circulating in a few major film festivals this year. On top of the original projects I wrote, I also landed a lead role in the upcoming movie Warriors of Justice and a supporting role in the new TV show Black Mentality. I am so excited to be a part of these projects because these are the first speaking roles I landed as an adult actress. I do however still audition for other production company's projects here and there. Last but certainly not least, I created two new playlists on my YouTube Channel, Artasia Olivia in regards to TV/Film. One is documenting my journey transitioning from Nurse to Showrunner and the other is industry chitchat and advice I give out to other upcoming actors and showrunners.
At what moment do you think you will reach your ultimate level of success? What does success look like to you?
When I can tell my stories the exact way I want to tell them, unapologetically, is the moment I'll know I've won. When young Black girls tell me how I'm an inspiration to their lives and motivate them to chase their dreams, is the moment I'll know I've won. And when I can continuously showcase diversity and representation through my projects. I am NOT doing this for the money, the fame, or to win fancy awards… I am doing this for all the Black people, curvy actresses, and young creatives who were told they didn't have a chance to make it in this industry. I am doing this for the creatives who do not have rich parents, relationships with industry professionals, and not much money to quit their day jobs to become full-time in this industry. I want to be a living example and proof you do not need a TV/Film degree or movie star friends to tell your dope stories. Success to me is when I can show all the people who were counted out from day one, they can do it too. I am fighting for the people that never thought they could win.
When creating your work, which identity speaks first? Is it your Artistic self, Youthfulness, your Blackness, or your Femininity?
My Blackness always speaks through my writing first because I am telling stories, by us for us! There are not enough Black stories being told and I am Black before anything else. My main priority is the phrase I like to call "E times 2". Which stands for "Entertaining" and "Educating." My mission is to entertain and reach my people. It is also, to educate us and others on our culture. The next identity that speaks is my femininity. The world must respect and thoroughly understand womanhood, through the most influential platforms, television, and movies. However, my artistic expression is not too far behind because I have a writing style not known to many. I deliver stories with an ominous yet dramatic tone perfectly blending drama, thriller, and horror. Lastly, my youthful identity will shine due to my modernization skills and Millennial influence. A genre combo told by a voice not seen nor represented often enough. I like to tell people, imagine if Issa Rae and Jordan Peele procreated… I would be the product!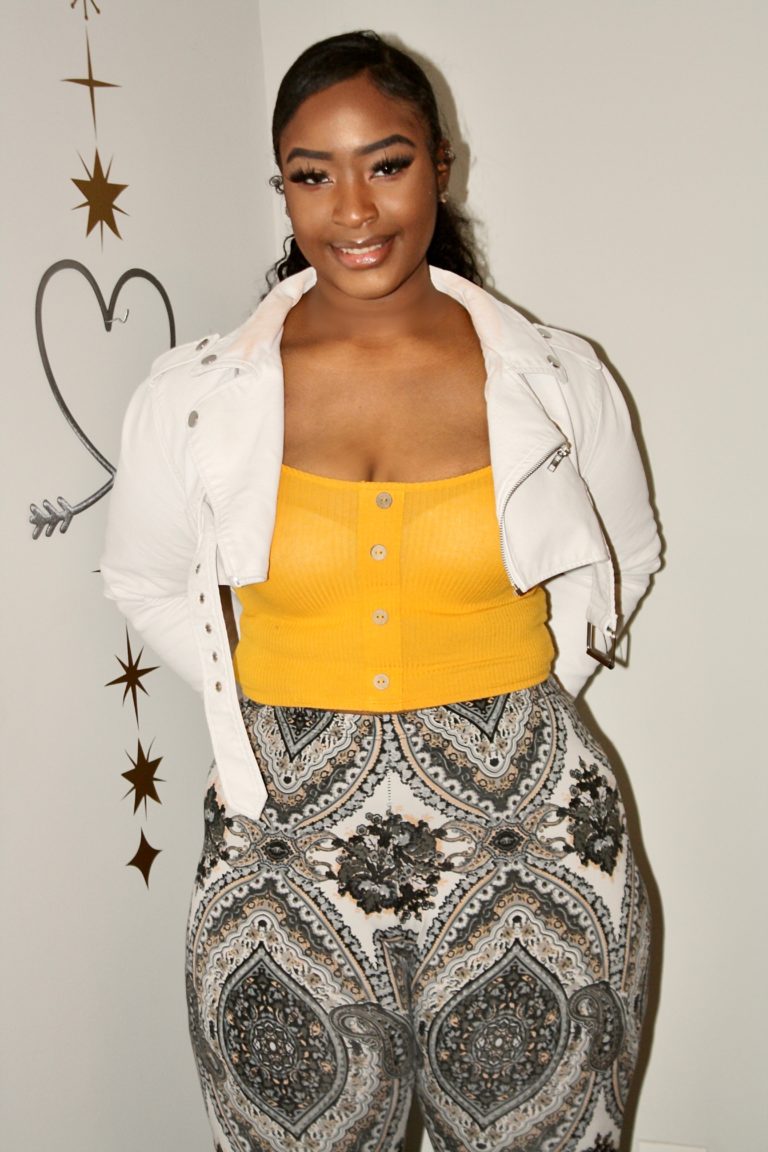 I love it! What a great interview and thanks again, Artasia! To keep up with Artasia Olivia and her journey, check out her website.