This content has been archived. It may no longer be relevant
At the end of 2021, there were many lists of screenwriters who'd advanced in contests, were nominated by their managers, and so on, and of course, they discovered to be celebrated. However, if you didn't place highly in a contest or didn't have representation, those lists left a bit of a blind spot for some undiscovered talent that we felt also deserved to be spotlighted. Enter Black Girl Screenwriters. We scoured our growing group of amazing screenwriters who were looking for a chance to get watched in the new year, and here we are! As the year goes on, we hope that this list will grow and that you'll seek out the people on it to discuss their futures within the industry so without further adieu, read below for 4 screenwriters to watch in 2022! 
Jasmin Benward (She, Her, Them) is a Multi-Hyphenate Storyteller (author, writer, playwright, singer-songwriter), Educator, and Family Wellness Instructor. Jasmin is repped by 22MediaWorks (manuscripts) and is currently writing her first, commissioned feature film. Jasmin is concurrently co-writing a one-man stage play and works as a staff writer for Black Retail, an urban comedy web series slated to begin production in 2022. Jasmin is hell-bent on creating all things queer, especially with a Black femme lens. Jasmin can be found trying her hand at beat-making, thrifting, and book-shopping her way through LA. She frequents New York City and Atlanta as she considers all three places home.
Writing Accomplishments in 2021:
– Writing contributor/editor- Stageplay in development
-Published Essay Piece (1/3/22) – Black Femme Collective
Hopes for 2022:
-Obtain 1st writing credit
-Receive representation
-Shop + close 2 feature films
Main Genre(s): Family and Dramedy
Representation Status: Seeking representation.
For more information on Jasmine Benward, visit Jasmine's
website
.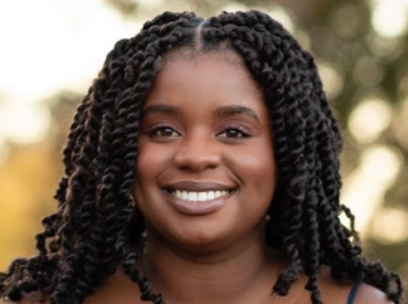 Danielle is a television writer based in the Washington, DC area. She loves to tell stories that center around black people living in DC and her primary focus is celebrating the social and cultural sides of the nation's capital outside of politics.
Writing accomplishments in 2021:
– Completed two screenwriting courses
– Finalized two original pilots – one serial comedy and one serial drama.
Hopes for 2022:
– To expand my portfolio and complete pilots for a murder mystery drama, a sitcom, and a medical anthology.
– To secure a writing fellowship.
Main Genre(s): 
Currently writing drama, but also loves comedy.
Representation Status: Seeking representation.
For more information on Danielle Richardson, visit Danielle's
website
.
LaTaveya is a wife, mom, and passionate screenwriter with 15 years of Screenwriting experience. She is adept in all aspects of script and story development, screenplay structure, character creation, and the intricacies of story structure while being self-motivated and committed to striving for innovation, originality, and awe-inspiring stories. LaTaveya jokingly says, Don't tell me your business because I may write it in my script."
Accomplishments in 2021:
– Writer/Director of the short film "Best Friends" 2021
– Writer/production assistant of the short film "The Briefcase"
– Quarterfinalist, Nashville Film Festival Screenwriting Competition 2021
– Quarterfinalist, The Film Empire Diversity
– Writer/Director, Shelly Massey Music Video
– Writer, Let It Snow, Feature Film (Pitched to BET)
– Writer, Someday at Christmas, Feature Film
– Writer, Jewel The Crypto Teen, Book
Hopes for 2022:
– To become a staffed writer on a hit tv show/sitcom
– TV Script greenlit by major production/Director
– To be hired as Segment Producer of USA Network television show
– To work on a Marvel Production 
– Win 3-4 writing competitions
– Obtain credible representation 
Main Genre(s): Drama/Suspense
Representation Status: Seeking representation.
For more information on LaTaveya Vault, visit LaTaveya's
website
.
Born and raised in Downtown Newport News, Danielle Solomon always dreamed big despite her circumstances. Her interest in television and film started when she was just a little girl. Thanks to her uncle's eclectic taste in black cinema and television, Danielle was able to escape the harsh reality of the world, hours at a time. She was determined to live in the world of film and television and took advantage of every opportunity possible; from delivering the weather report in the fifth grade to serving as a sideline reporter for Newport News Public Schools Television (NNPS-TV). She furthered her dreams by attending Howard University in Washington D.C., studying Broadcast Journalism and Play Writing. While there she worked for several television networks, media outlets, and production companies. Some of Danielle's biggest accomplishments include; climbing her way up the ranks at PBS Affiliate – Spotlight Network, WHUT-TV, and winning awards for her work in campus journalism. After graduating in the Spring of 2017 she scored an internship with Bounce in the Original Programming department and in a matter of months Danielle became an associate within the department. She now lives in the world of network television and continues to hone her storytelling skills in preparation for what's to come. 
Accomplishments in 2021:
– Completed a dramedy pilot
– Completed her first adventure/sci-fi feature
– Was chosen for The Thomas Simmons Publishing Writers Room
Hopes for 2022:
– To get representation
– To get staffed
Main Genre(s): Drama/Dramedy
Representation status: Seeking representation.
For more information on Danielle Solomon, visit Danielle's website.